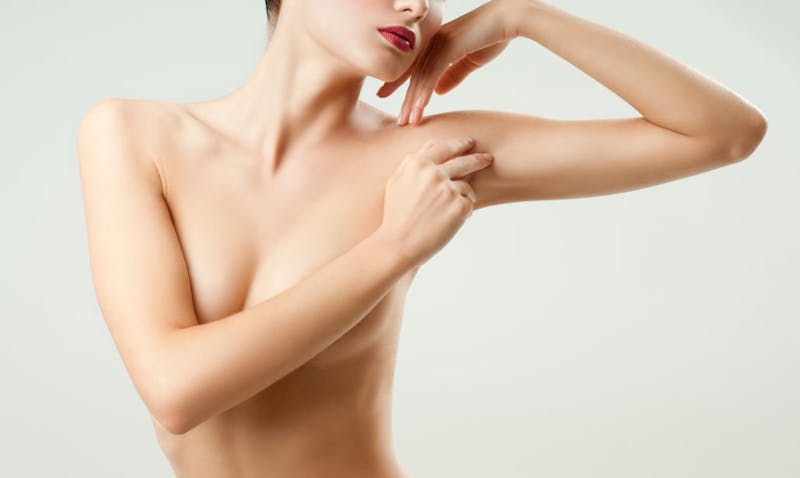 Breast Augmentation
One of the most common complaints we hear from women is that their breasts are too small. If you're one of the millions of women who are dissatisfied with the shape and size of their breast, breast augmentation might be a great option for you. This procedure helps to increase the size of your breasts, improve the shape, and establish symmetry. It's a great option that can help you feel better about yourself and improve self-esteem.
How is a breast augmentation performed?
The first step to achieving the look you've always dreamed of is to come in for a free consultation with Dr. Markelov. During this visit, he will discuss your expectations as well as what your results might look like. He'll also take a complete medical history to understand where you're at in terms of overall health and examine you to determine what time of implant you're a candidate for. Breast implants can be placed under the breast, through the nipple, or through the armpit. The healthier you are, the better results you can expect.
After your consultation, you'll come in and discuss size with the doctor. You'll likely be asked several times if the size you want is really what you want. This is because the doctor wants to make sure you're going into the procedure without any reservations.
On the day of the procedure, Dr. Markelov will discuss what he will be doing as well as what you can expect during recovery. The procedure can last anywhere from one to two hours.
Type of Implants
Saline implants are filled with a sterile saline solution that's easily absorbed by your body if they're ruptured. Should a rupture happen, you won't experience any of the side effects you might expect to from other implants. Saline implants provide a softer, more natural appearance.
Silicone implants are harder, however, they don't deflate if ruptured. The FDA requires an individual be 22 or older to get silicone implants.
If you are looking for a modest size increase without the use of an implant – breast augmentation with fat transfer might be an excellent option for you. Dr. Markelov specializes with breast augmentation using autologous fat transfer. The fat is usually harvested from the waist/abdomen area or from the thighs using liposuction technique. After special processing the fat is transferred into the breasts via tiny incisions. This type of procedure combines the benefits of a liposuction and breast augmentation.
If you're looking to improve your appearance and get the breasts you've always dreamed of, contact our office today for a free breast augmentation consultation with Dr. Markelov. He'll discuss any concerns with you and help you determine the best choice for your body.