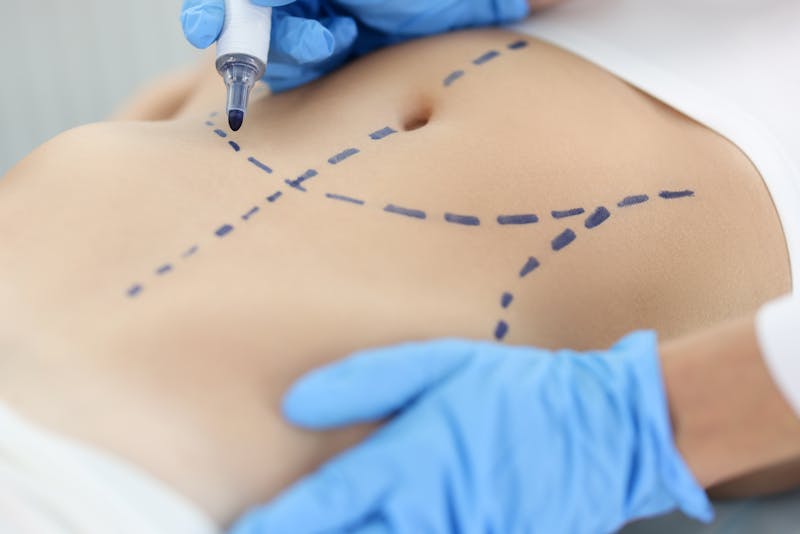 By eliminating stubborn fat pockets that are unaffected by diet and exercise, liposuction surgery can achieve more definition in the body. Patients who are considering undergoing liposuction frequently inquire about how much fat can be removed during the procedure. Although there are limits on how much can be extracted, the amount of fat that can be removed is ultimately determined by the patient's specific needs and goals.
The limits of fat removal in a single session
Liposuction safety limits typically allow for the removal of approximately six to eight pounds (three to four liters) of fat. Any amount beyond this number increases the likelihood of complications. If the patient desires more fat removal beyond this limit, it is usually recommended that the procedure be separated into multiple stages spaced three to four months apart.
It is not always appropriate to eliminate large amounts of fat
Contrary to popular belief, the optimal outcome of liposuction is not always achieved by removing the largest amount of fat possible. While it is often mistaken for a weight loss solution, liposuction is primarily designed to target specific areas of fat in the body and
enhance contours.
Patients who are looking to lose a substantial amount of weight are not suitable candidates for liposuction. Patients must be at or near their ideal weight in order to be eligible for the treatment.
In most cases, patients are able to safely achieve their desired look by removing smaller amounts of fat. Removing 10 to 12 pounds of fat/fluid is considered excessive if the patient can achieve their desired look with a removal of only three to four pounds. That said, there are cases where patients will want to go beyond that amount, and sometimes it is called for.
Some of the factors that affect the fat-removal process
The targeted area
The patient's BMI
Their general body shape
Whether the treatment is being combined with another procedure
To reiterate, liposuction is not a weight loss treatment and is designed specifically for patients who are already close to their optimal weight. This protocol is there to help those who are having trouble getting rid of stubborn sections of fat with diet and exercise alone. While some patients expect to remove drastic amounts of fat, most end up finding that a small reduction is enough to get them where they want to be.
The risks associated with removing large amounts of fat
There are several risks associated with the removal of significant amounts of fat through liposuction, such as the potential development of lumps or dimpling of the skin. More than anything, it is often recommended to avoid excessive fat removal simply because there is an increased safety risk for the patient.
Generally speaking, liposuction is an incredibly safe procedure. However, the risk of complications increases when an excessively large amount of fat is extracted from the body. Some potential complications of excess fat extraction include:
Fluid accumulation, which can lead to breathing issues
The development of seroma or hematoma
Blood clots
Negative reactions to anesthesia
Infections
Shock as a result of dehydration
Fat embolism, which results from fat cells getting into the bloodstream
What is the takeaway?
Removing substantial amounts of fat involves a longer, more complicated procedure that comes with a longer recovery period. As such, patients who are interested in removing more than the recommended amount of fat should make sure that they refer to a highly revered and experienced practitioner to carry out their procedure. Patients who are looking to improve their body contours should remember that, when it comes to fat removal, less is more.