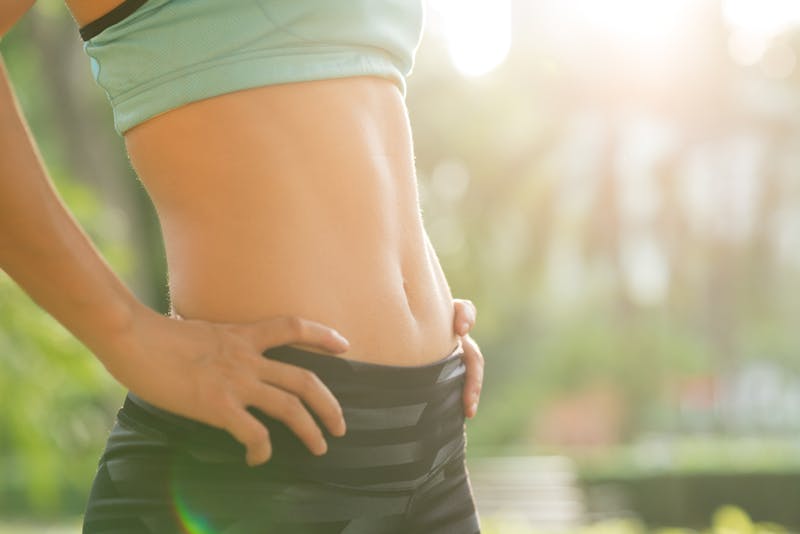 A tummy tuck, otherwise referred to as abdominoplasty, is a cosmetic surgical procedure aimed at enhancing the appearance and contour of the abdominal area.
During a tummy tuck procedure, excess tissue and fat are skillfully removed from the abdomen, resulting in a more sculpted and refined tummy. Additionally, the underlying muscles are tightened to achieve a firmer and more toned abdominal contour.
For certain individuals, we may recommend combining liposuction with the tummy tuck procedure to achieve optimal results in body contouring. This comprehensive approach ensures the best possible outcome in enhancing the shape and appearance of the abdomen.
Who is a tummy tuck designed for?
Individuals who have experienced significant weight loss, childbirth, or are unable to reduce excess skin through traditional methods may find a tummy tuck procedure beneficial.
It is important to note that patients who are currently overweight may not be suitable candidates for a tummy tuck. However, a thorough assessment of the patient's current state needs to be carried out before their candidacy can be properly determined. As a general guideline, we recommend that a patient's weight prior to the procedure falls within a range of 10% - 15% of your ideal weight.
Patients who are planning to have a child in the near future are advised to postpone their tummy tuck procedure until after they are finished with childbirth. This ensures that the results of the surgery are maintained and not compromised by subsequent pregnancies.
What does a tummy tuck procedure entail?
A full tummy tuck involves:
Creating a horizontal incision across the lower abdomen, extending from hip to hip.
Making a small incision to release the belly button from the surrounding tissue.
Separating the skin from the abdominal wall.
Realignment of the abdominal muscles.
Removal of excess fat and skin.
Creating a new opening for the belly button and securing it in place with sutures.
Bringing the remaining skin together and suturing it for a tightened appearance.
How painful is a tummy tuck procedure?
The tummy tuck procedure typically lasts between two and five hours and is performed under general anesthesia. After the surgery, the patient will be required to stay overnight in the clinic. The level of pain experienced during a tummy tuck varies based on individual pain tolerance.
Some discomfort can be expected following the procedure, with the most intense discomfort occurring within the first week. Based on a scale of 1 to 10, it is common for patients to rate the pain at around 6-7 during the initial few days to a week, gradually decreasing to approximately 3-4 by the second week. It is important to note that pain levels can differ for each person.
To help manage pain, the patient will be provided with a postoperative pressure garment along with prescribed pain relief medication. These measures work together to alleviate discomfort during the recovery process.
What steps should be taken following the procedure?
Patients are discharged from the hospital with dressings and a pressure garment on their stomachs, which ensures that the skin heals properly and that swelling is reduced to a minimum. Patients will need to arrange a ride home for themselves (ideally, this person will be able to stay with them for at least 24 hours).
How long does it take for patients to fully recover after a tummy tuck procedure?
After returning home, it is crucial to prioritize rest and allow yourself 10-14 days for complete recuperation. Patients should take a minimum of four weeks off from work and refrain from engaging in exercise or any physically demanding activities during this time.
Driving should be avoided for at least four weeks following the procedure, and while sleeping, it is advisable to keep your knees bent to minimize strain on the stitches.
While the initial recovery period spans around six weeks, it is important to note that it may take up to nine months to witness the full results of the procedure as your body continues to heal and adjust. Patience and adherence to postoperative guidelines will contribute to the successful outcome of your tummy tuck.
What is the takeaway?
In regards to how painful a tummy tuck is, patients should know that their pain levels will fluctuate throughout the recovery process. Generally speaking, the first week of recovery is associated with sharper pain, while the second and subsequent weeks see a major drop in pain levels.
Patients should refer to a highly revered practitioner to carry out their tummy tuck procedures. Throughout his career, Dr. Markelov has performed tummy tuck procedures on countless patients, always eliciting remarkable results. Contact our office for a private consultation.